When it comes to home interior décor no amount of effort is enough, and no material is satisfactory. But, the glazed vitrified tiles can really turn your feelings of despair upside down with their range of styles and finish options.
Also known as porcelain, glazed vitrified tiles are some of the most versatile and safe building materials known and created by man. The tiles are made of natural materials which are easily recyclable and do not leave a toxic residue when installed or discarded.
What are Glazed Vitrified Tiles?
Glazed vitrified or porcelain tiles are a version of vitrified tiles that features a hard glass-like glaze on top. The glaze can be digitally printed with various patterns and designs to mimic a natural material, like stone and wood, or with artistic impressions.
Porcelain or glazed vitrified tiles are known for their extraordinary design portfolio and sturdiness. These tiles are quite versatile and present a great floor and wall finish option for the following reasons:
Almost impervious to water damage

Virtually stain-free

Wide range of surface finish

Perfectly imitates natural flooring choices such as marble, wood, granite, etc.
Where to Install Glazed Vitrified Tiles in Your Home?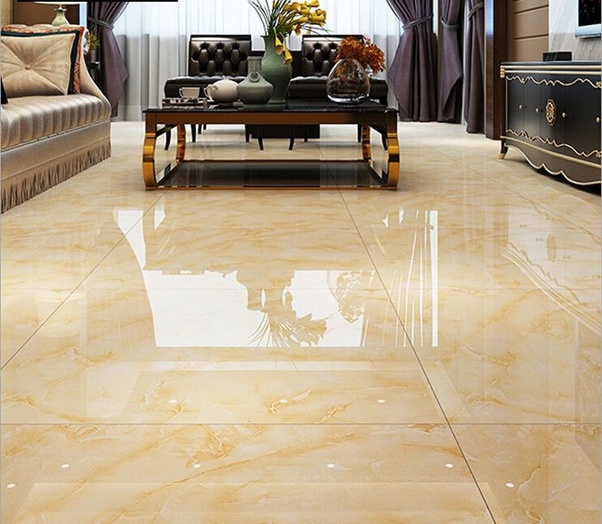 source: pinterest.com
Digital glazed vitrified tiles can beautify and add strength to several areas in your home. If you have the budget and want to give your house a sturdy finish throughout, you can tile almost all the floors and selective walls in it.
Here's a sample list of all the places where you can place glazed vitrified tiles in your house:
Floor & Wall Applications
Kitchen

Bathroom

Living Room

Bedroom

Front Wall / Elevation

Balcony

Passages
Only Floor Applications
Staircase

Parking Space

Terrace Floor

Staircases
Others
Kitchen & Bathroom countertops
Selecting Glazed Vitrified Tiles for Walls
Your choices for wall tiles can vary according to the type of space and purpose. Consider the following while picking up the tiles for each space:
Kitchen Walls & Backsplash
Select tiles for backsplash and walls separately

You can include a separate design for the backsplash behind the cooktop

The surface finish for backsplash tiles should be glossy, or at least have a rocker finish. This will keep the backsplash easy to clean and remain stain-free from oil and gravy splashes.

Backsplash and wall tiles add visual value to your kitchen. So, you can use flashy designer tiles here to turn the kitchen into a focal point.

Ideal sizes for the backsplash would be 60×30 cm, 45x30cm. However, you can use a larger slab of 60x120cm if your kitchen wall is straight.
Bathroom Walls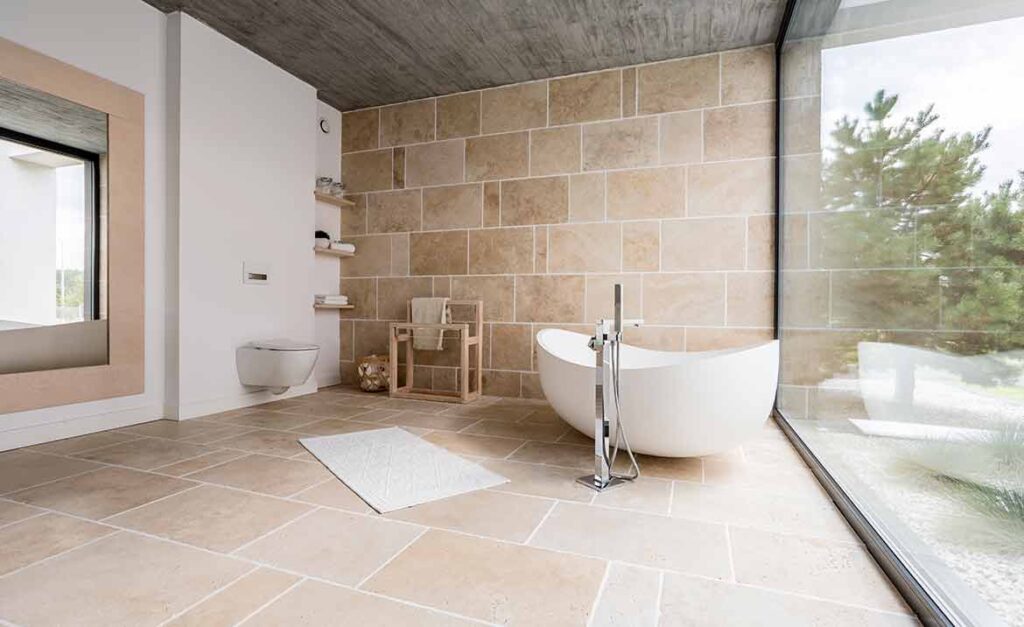 source: pinterest.com
Select glossy tiles for easy cleaning and maintenance

Use brighter colours to utilise the limited natural light during daytime

You can use tile sizes based on the bathroom size. For mid and small bathrooms the more popular tile sizes are 30x60cm and 30x45cm. However, larger bathrooms can easily use tiles of 180x60cm, 120x60cm, etc.

If you are building a vanity the wall behind the vanity can be turned into a focal point with 3D wall tiles.
Living Room & Bedroom Walls
You can match wall tiles with the floor for a uniform appearance

Television walls or accent walls can be differentiated using 3D elevation tiles, or tiles of a different pattern.

The bedroom headwall can use coordinated tiles

High gloss walls give a premium appearance, but a rocker finish looks more subtle and natural.
Front Elevation Wall & Outdoor Wall Cladding
The front elevation is the first impression of your house. So, the tiles here must be unique or installed for a beautiful appearance

3D Elevation tiles like sandstone bricks, chip stone, fire brick, carved wood, etc., are popular and sturdy choices for these spaces

The ideal size for the front elevation and external cladding tiles is 60x30cm as it gives more opportunity for customizations and relief for accommodating doors, windows, and foundation pillars.

If you are using wooden planks the ideal size would be 120x20cm
Balcony Walls & Floors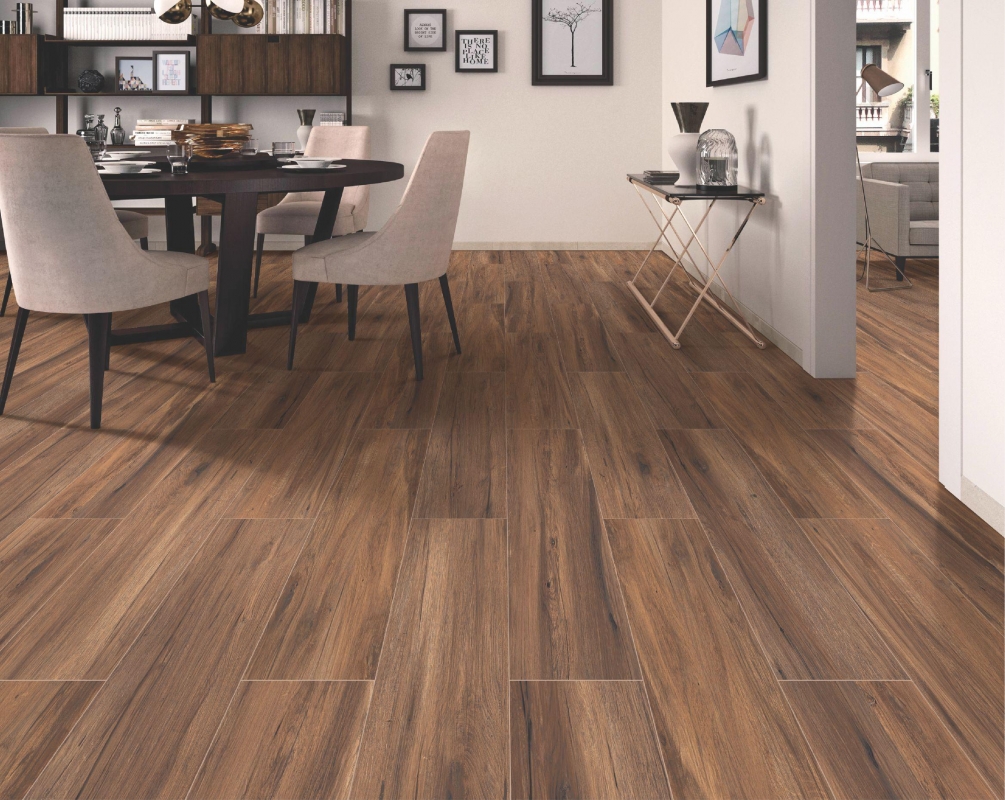 source: pinterest.com
Balcony is a great place to enjoy some fresh air without leaving your house. But that also means, the place is exposed to weather and rain

Proper floor and wall tile covering will add safety for the users and the building.

Glossy elevation tiles will be great for the aesthetics and maintenance perspective

Anti-skid floor tiles with adequate sloping towards the drain should be your preferred choice for the balcony
Passages Flooring & Wall Cladding
Passages are usually a high traffic area, especially in commercial and public spaces.

Covered passages may also face hands on walls which can stain the walls

Using full-body or double charged vitrified tiles is more suitable for passage floors as these tiles can handle medium to high footfall without wear

Also cover the passage walls up to 5 feet with porcelain or ceramic tiles to avoid lasting stains on the walls. Tiles can be easily cleaned and maintained. So, the walls will not need regular repaint.
Selecting Glazed Vitrified Floor Tiles
Most wall tile selection for your house addresses the primary purpose of beautification and aesthetics. However, the selection of glazed vitrified floor tiles is categorically based on safety first and beauty later. You should select the floor tiles for different areas in the house based on the footfall, and type of area:
Kitchen & Bathroom Floor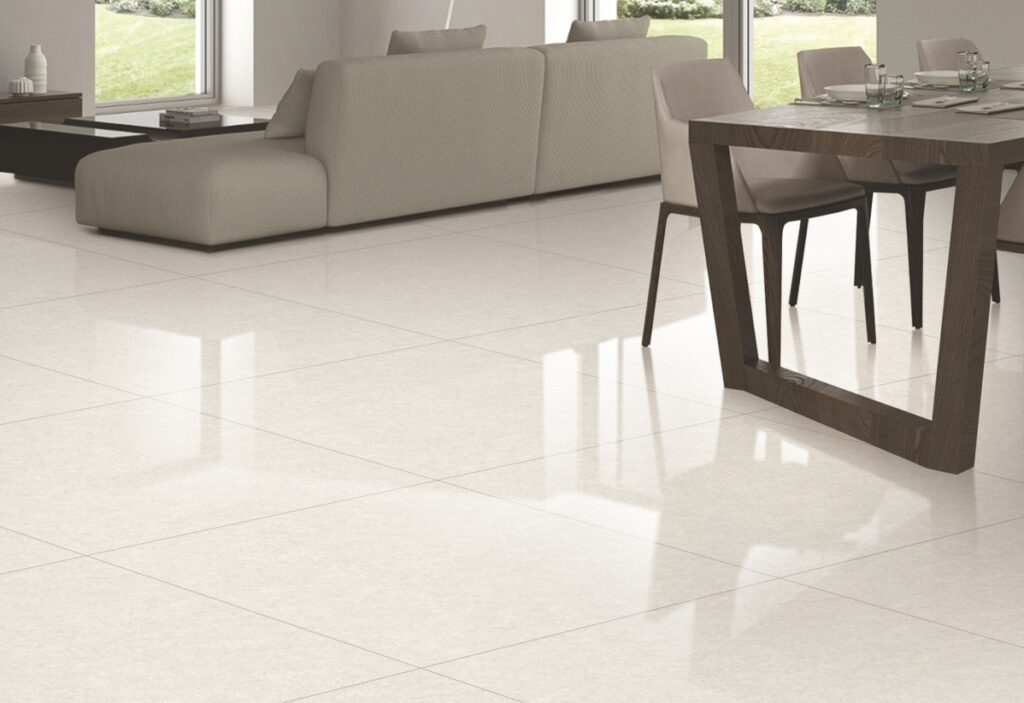 source: pinterest.com
These spaces have a high chance of oil or soap spills. Thus, the floor should offer adequate grip to your feet, with or without footwear.
The best glazed vitrified floor tile for the kitchen and bathroom should feature a matte, rustic, or wood matte surface finish.

Wood plank, terracotta, and matt finish marble look alike tiles are a few popular designs for these areas.

The ideal size depends on the floor area. However, bathrooms should use smaller tiles of 30×30 cm, 40×40 cm, or 60x60cm tiles if the space allows.

Smaller tiles are easier to install with a slope on the floor that is necessary for draining the water off the floor in the bathroom.
Living Room & Bedroom Floors
While high gloss tiles create a mesmerising and luxurious space in the living room, wood matte tiles are also quite popular for living room floors.

The comfortable grainy texture of the wooden tiles (both planks and large slabs), feels good to walk on and offers adequate safety for users of all ages.

Explore the book-match styles for more unique floor designs under glazed vitrified tiles
Floor Tiles for the Staircase
Glazed vitrified tiles for the staircases are specially crafted tiles for the area.

The tile size depends on the width of your staircase. You can choose from 120x30cm, 120×60 cm, 95x30cm, and 95x60cm tiles for your staircase.
Floor Tiles for the Parking Area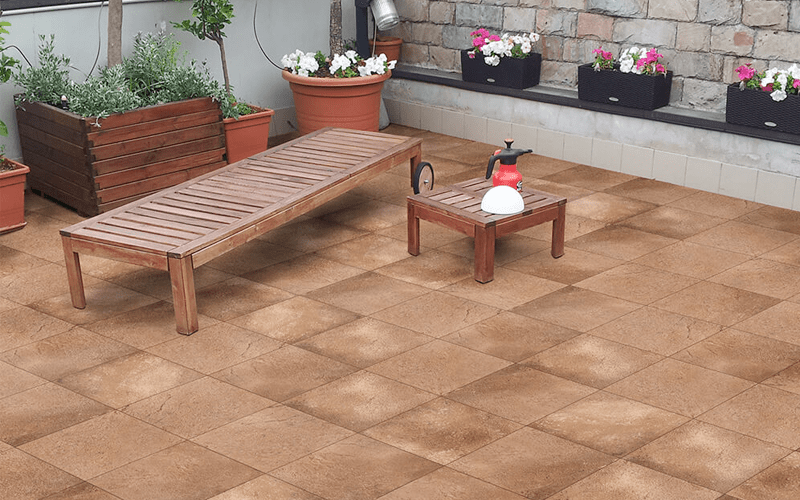 source: pinterest.com
Parking area tiles not only need to be sturdy but also offer a higher grip

Special glazed vitrified tiles, such as Pavers, Max-Grip, and EDC (Endura Designer Collection) tiles from H&R Johnson, work well for such areas.

Using tiles like EDC, you can also make the area aesthetically pleasing
Tiles for Terrace Floor
While you can fully reap the benefits of an exposed terrace during winters, you will want it to grow cold somehow during the hot summers.

Don't worry. Using appropriate glazed vitrified tile on the terrace floor, you can keep it 10-15 degrees cooler than the ambient temperature.

Cool roof SRI tiles are the glazed vitrified tiles that can accomplish the feat for you.

Explore the sizes of 40x40cm and 30x30cm for keeping your roof and exposed pavements cool.
Other Areas for Glazed Vitrified Tiles
The kitchen countertop is another place you can use glazed vitrified tile slabs. The tiles not only make your kitchen counter look unique but also handle all the abuse your cooking style has to throw at them.
The sturdy surface of the tile can handle the occasional utensil accidents without a fuss. Do consult an expert or visit a dealership to learn more and explore the modern designs for all your floor and wall tile choices.