There is nothing quite like enjoying a meal outside, in the company of cherished friends and family, surrounded by breathtaking surroundings. If you like spending time outdoors and hosting parties, renovating your outdoor kitchen might be a game-changer. Your time spent outside may elevate to a new level if you create a functional and aesthetically pleasing place by carefully planning and selecting appropriate furnishings and accessories.  
This article guides you through the main stages of redesigning your outdoor kitchen, from planning and design to choosing the appropriate equipment. Now is the time to roll up your sleeves and get ready to turn your outside area into a culinary paradise. 
Planning and Design
It's crucial to plan and design your outdoor kitchen. To begin, assess the available space and evaluate your requirements and preferences. Take into account the structure, the functionality, and the aesthetic you want to achieve. Additionally, consider factors such as the proximity to your main home, prevailing wind patterns, and the existing utilities. This preparatory phase will allow you to make well-informed decisions and guarantee that the renovation goes well. 
Creating a Welcoming Atmosphere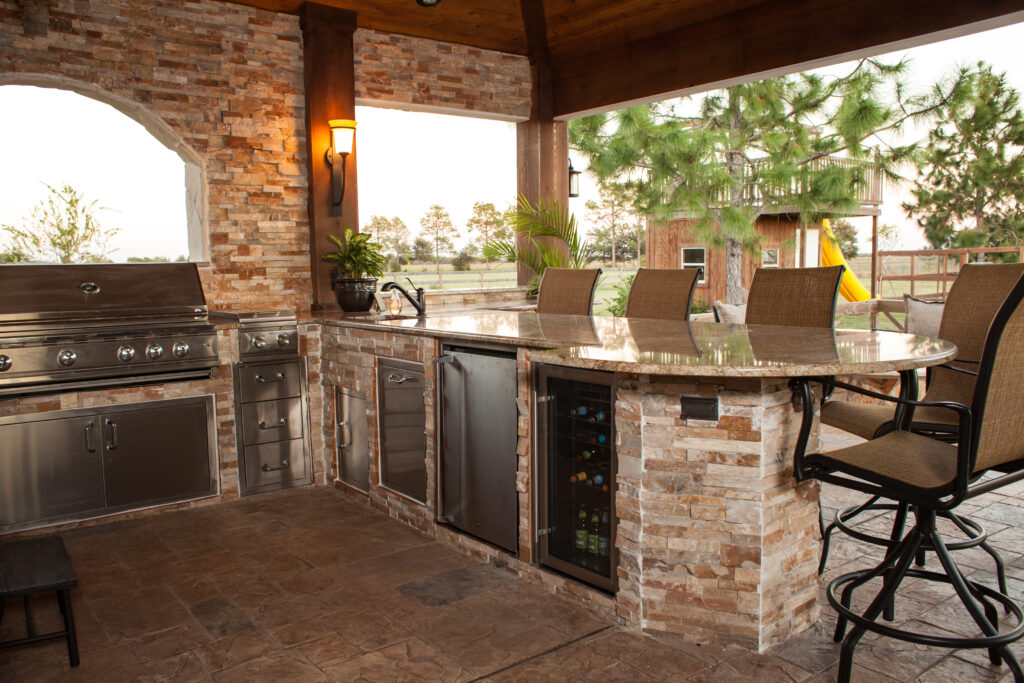 source: pinterest.com
To create a more welcoming and aesthetically pleasing outdoor kitchen, incorporate design elements that reflect your style and contribute to a cozy atmosphere. Opt for durable materials like stainless steel, stone, or concrete. These are weather-resistant materials, and they can provide an air of refined elegance to your outdoor area. Remember that you want the aesthetics of your interior and outdoor spaces to flow together as naturally as possible. 
The Role of Lighting
Correct lighting is a crucial yet often overlooked element in creating a comfortable and inviting outdoor kitchen. Your room may be more practical and secure with the addition of strategically positioned lights, all while emanating a warm and pleasant glow. Consider integrating several types of lighting, such as task lighting (overhead fixtures or under-counter lights) and ambient lighting (like string lights or lanterns). These lighting elements will illuminate your outdoor cooking area—setting the perfect atmosphere for unforgettable dining experiences. 
Selecting Appliances
When designing a practical outdoor kitchen that caters to your culinary requirements, selecting the right equipment is paramount. Look for machines specifically designed for outdoor use, as they are built to withstand the effects of the weather and function optimally in natural settings.  
An outdoor kitchen may be more practical and convenient with the addition of a refrigerator and sink, and every chef who prepares meals outside should have a good grill. Additionally, consider installing specialty equipment like pizza ovens, smokers, or beverage centers to take your outdoor cooking to the next level. 
Storage Solutions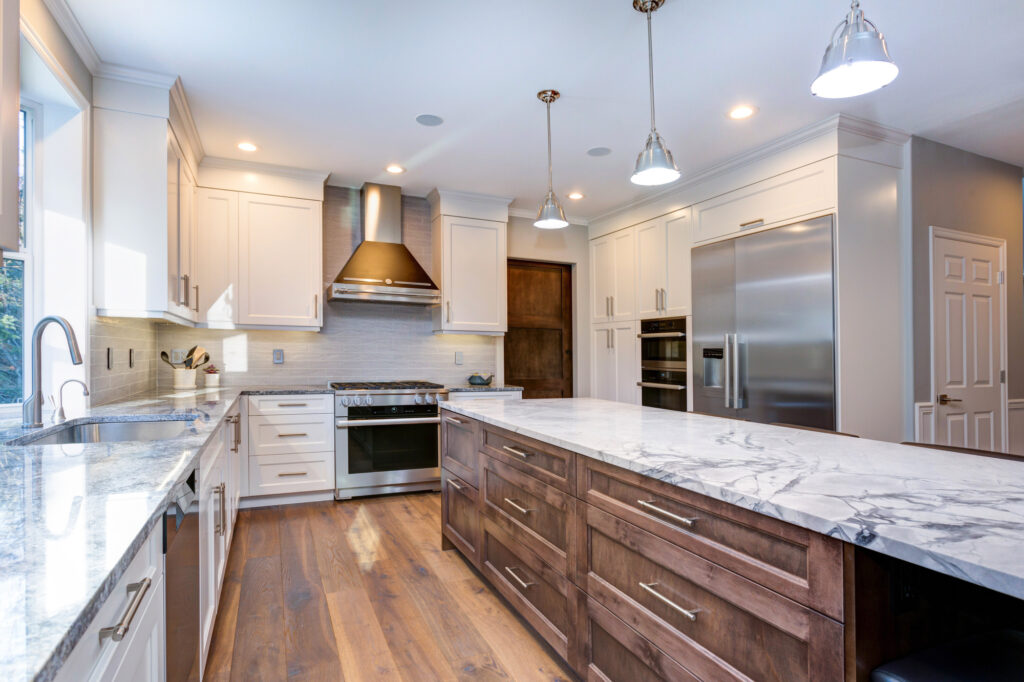 source: pinterest.com
It is only possible to cook smoothly outside with a well-organized outdoor kitchen. That is why you should incorporate ample storage options into your kitchen design to keep your culinary implements, utensils, and supplies easily accessible. Utilize cabinets, drawers, and weather-resistant shelves to maintain organization and have everything you need within reach.  
If you require easy access to plumbing or electrical components, consider installing BA-AHD-SS BBQ Access Door. This durable and multifunctional access panel seamlessly blends with your outdoor kitchen, providing convenient access to the essential underlying infrastructure. 
The Perfect Grill Station
Because the grill is often the centerpiece of an outdoor kitchen, you must choose the most suitable model. Think about things like the size of the cooking area, the kind of fuel it uses (gas, charcoal, or electricity), and extra amenities like side burners or rotisseries. Grills made of stainless steel are a popular option owing to the material's longevity and its resistance to rust and corrosion. Choose a grill that accommodates how you want to cook and gives an area large enough to accommodate the number of people you regularly have over for dinner. 
Comfortable Seating and Dining Areas
Incorporating comfortable dining and seating areas would create an inviting ambiance in your outdoor kitchen design. Choose outdoor furniture that can endure the elements while providing ample seating for visitors. To enhance comfort, you may include cushions and pillows and consider incorporating shade-providing features like umbrellas or pergolas to shield you and your guests from the sun's rays. 
Entertainment and Amenity Options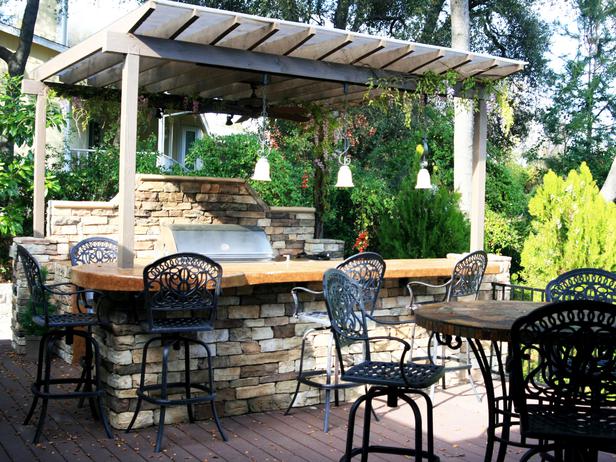 source: pinterest.com
Include various entertainment and convenient amenities to elevate your outdoor kitchen to the next level. Depending on your preferences and available space, you may want to consider installing a sound system, an outside television, a fireplace, or a fire pit. Your outdoor kitchen will become a gathering spot for unforgettable nights with loved ones, creating a warm and inviting environment for hosting. 
Landscaping and Greenery
Enhance the inherent aesthetic appeal of your outdoor kitchen by incorporating plants and other forms of vegetation. Starting an herb or vegetable garden nearby can be a great idea, as this will improve the taste of the food you prepare and make the surrounding area more aesthetically pleasing. Choose plants that thrive in your area with minimal intervention, taking advantage of their adaptability. Also, add plants in containers or hanging baskets to infuse your outdoor space with vibrant colors and vitality. 
Increasing the Efficiency of Your Outdoor Kitchen
Renovating your outdoor kitchen allows you to make your area more functional while also elevating its visual appeal. Consider including some of these suggestions in its design to make your outdoor kitchen more useful and user-friendly. 
Workflow Optimization: Keep the activity flow in mind when planning your outdoor kitchen arrangement. The stove, the sink, and the refrigerator should be arranged in the shape of a triangle since this configuration enables simple mobility and maximizes the time spent cooking. Ensure that these necessary components are close enough to reduce the time and effort needed to prepare and serve meals. 
Prep and Cleaning Stations: Your outdoor kitchen design should include dedicated food preparation and cleanup areas. If you have an ample countertop near the grill, it will be simple to prepare meals. Additionally, cleaning the dishes and utensils used in the preparation process will be easy if you have a sink with running water. Your cooking routine will become more streamlined because these designated locations will help you manage your outdoor kitchen. 
Outdoor Bar: If you frequently host gatherings in your backyard, incorporating an outdoor bar into your kitchen design is a worthwhile consideration. You can opt for a countertop with bar stools or create a dedicated bar area with a sink and refrigerator. This addition will establish a social hub where visitors can interact while you prepare meals. 
Weather Protection: Maximize the year-round usability of your outdoor kitchen by incorporating weather protection features. Consider installing a pergola or canopy over your outdoor cooking area to provide shade during the hot summer days and protect it from rain. Investing in outdoor curtains or roll-down shades can help maintain a warm climate and shield the area from strong winds. 
source: pinterest.com
Multifunctional Features: Incorporate elements that serve more than one use into your outdoor kitchen to maximize its potential. For instance, a kitchen island with storage space built into it may function as a food preparation area, an eating area, and more countertop space. You can also purchase a grill with additional burners or a side cart that may serve as a station for serving food or provide more storage space. 
Smart Technology Integration: Embrace the latest developments in cutting-edge residential technology and integrate them into your outdoor kitchen design. You may install sophisticated lighting systems that operate from a distance or use voice commands. These innovative enhancements will significantly improve the practicality and effectiveness of your outdoor cooking experience. 
Adequate Ventilation: When removing smoke, smells, and extra heat, sufficient ventilation in an outdoor kitchen is reasonably necessary. To efficiently draw smoke away from the grill and prevent it from penetrating your outdoor living area, install a range hood or a vent hood above it. With enough ventilation, you and your guests can enjoy a pleasant and comfortable cooking environment. 
Eco-Friendly Practices: Remodeling your outdoor kitchen should include using environmentally responsible methods. Choose more energy-efficient home equipment, such as less gas or electricity. If you want to irrigate or water your garden, you may want to think about building a rainwater collecting system. If you adopt environmentally responsible methods, your financial burden will be lessened, as well as your influence on the environment. 
Privacy Considerations: If privacy concerns your outdoor kitchen, explore various options to incorporate privacy elements into your kitchen design. Strategically placed privacy screens or tall plants can create a secluded area to enjoy your meals without feeling overly exposed to neighbors or people passing by. 
Outdoor Entertainment: Enhance the entertainment value of your outdoor kitchen by installing audio and video equipment. While preparing food, you may listen to music or stream your favorite podcasts with weather-resistant speakers or soundbars. You may also attach a television resistant to the elements, creating an ideal environment for watching movies or sporting events with your loved ones and friends. 
Conclusion
Renovating your outdoor kitchen is an exciting project that allows you to create a functional and inviting cooking area for entertaining guests and enjoying the outdoors. By carefully planning and designing, selecting the right appliances and accessories, and paying attention to the details like lighting and seating, you can elevate your al fresco experience to new heights. So, gather your ideas, roll up your sleeves, and transform your outdoor space into a culinary haven that will impress your guests and provide endless enjoyment for years.